更新0509■GASTUNK_DEAD INDIAN'S DREAM 2019 merchandise■予約告知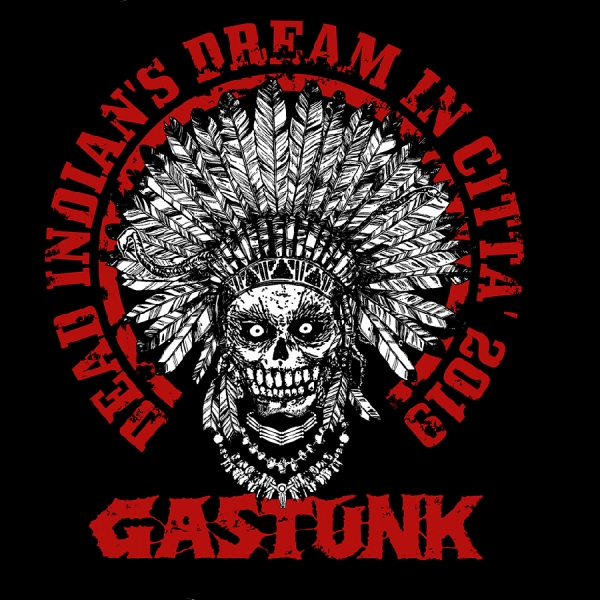 先月4月6日 川崎CLUB CITTA'で開催されたGASTUNKワンマンライブ"DEAD INDIANS DREAM IN CITTA'2019"会場で販売をしていたオフィシャル・マーチャンダイズを期間限定にて販売を致します。販売アイテムは、Tシャツ、ジップアップパーカー、バッグパック、カメラマン菊地"JONES"茂夫による膨大な写真から選りすぐりのカットをまとめた写真集2009年度版と昨年のリキッドルームワンマン時の2018年度版の2種類。予約締切は、5月28日【火】正午まで。発売は、6月中旬を予定しています。ご希望の方は、この機会をご利用下さい。
■GASTUNK_DEAD INDIAN'S DREAM T SHIRT BLACK■
■GASTUNK_DEAD INDIAN'S DREAM T SHIRT BURGUNDY■
■GASTUNK_DEAD INDIAN'S DREAM T SHIRT DEEP PURPLE■
■body color:black,burgundy,deep purple
■ink:white (DALUC製5.3 oz)

サイズ採寸値(メーカー推奨値ですが、ボディにより個体差がある場合があります。あらかじめご了承下さい。)
X SMALL(WOMAN L) 着丈64cm身幅46cm肩幅41cm
SMALL 着丈65cm身幅47cm肩幅44cm
MEDIUM 着丈68cm身幅50cm肩幅47cm
LARGE 着丈71cm身幅53cm肩幅50cm
X LARGE 着丈74cm身幅56cm肩幅53cm
XX LARGE 着丈77cm身幅59cm肩幅56cm
XXX LARGE 着丈80cm身幅62cm肩幅59cm #blackのみ
#XX LARGEは324円、XXX LARGEは432円のオーバーチャージが加算されます。(予約品のみ)
■GASTUNK_DEAD INDIAN'S DREAM LIGHT WEIGHT HOODY■
■body color:black
■ink:whitex & red (PRINT STAR製8.4 oz)

サイズ採寸値(メーカー推奨値ですが、ボディにより個体差がある場合があります。あらかじめご了承下さい。)
X SMALL(150) 着丈56cm身幅43cm肩幅37cm袖丈55cm
SMALL 着丈64cm身幅47cm肩幅41cm袖丈61cm
MEDIUM 着丈67cm身幅50cm肩幅44cm袖丈62cm
LARGE 着丈70cm身幅53cm肩幅47cm袖丈63cm
X LARGE 着丈73cm身幅56cm肩幅50cm袖丈63cm
XX LARGE 着丈76cm身幅59cm肩幅53cm袖丈64cm
■body color:black
■ink:white
■size:33cm(W) x 39cm(H) x 13cm(D) 22ℓ
■size:A5
■pages:144page
■photo:shigeo"jones"kikuchi Dynasty Pictures SJK
※GASTUNKの2009年に行われた7カ所のライブを中心にライブ前に撮影したメンバー写真で構成。
It consists of member photos taken before the shows and GASTUNK's gigs on seven venues in 2009.
■size:A5
■pages:144page
■photo:shigeo"jones"kikuchi Dynasty Pictures SJK

※GASTUNKの2018年3月24日に恵比寿LIQUIDROOMで行われたライブの写真で構成。
Composed of photographs of shows at Ebisu LIQUIDROOM on March 24th, 2018

こちらの商品は、予約商品になります。

予約締切は、5月28日【火】正午まで。

発売は、2019.6月中旬を予定しています。

ご予約された商品は、完了後のキャンセルが出来ません。あらかじめご了承下さい。
ご予約は以下からどうぞ
■GASTUNK_DEAD INDIAN'S DREAM 2019 merchandise■
皆さんのご注文をお待ちしています。
よろしくお願い致します。
for overseas:
PRE-ORDER deadline is 28th May.Release is Mid of June.
#It is web reservation sale of merchandise sold at club Chitta in April 2019.
Please use from the following URL or order from the link of the domestic site.
https://fuudobrain.com/onlinestore/product-category/gastunk/?orderby=date&paged=1